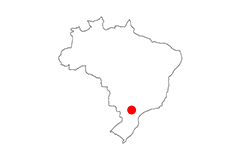 Campus Cabral – UFPR
Curitiba / Brazil
2012
Area: 20.990 sqm.
In response to an extensive and dense program needs, and to preserve an existing construction in the lot, we propose an unique laminar building in order to reduce the built projection over the land. This strategy enables the annexation of open spaces to the Campus and create a place that stimulates the meeting and the living together.
The building is set around a great central void, that works as a building activities' articulator, and is ruptured by walkways that travels through all floors, exposing the internal flows.
Vertical frames, visually trespassing the building's limit, filter the natural light and incorporate the landscape into the internal spaces, reinforcing the extroverted building prerogative.
Open Competition.