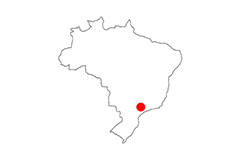 Brava House I
Ubatuba / Brazil
 2001
Area: 235  sqm.
This summer residence on São Paulo's northern coast is implanted in a steep plot of land of 4.500 square meters. The topography of the land associated with a warm and humid weather, a high rainfall rate in the area and the difficulty of transporting materials to the site were crucial guidelines to the project design.
This ​​147 square meters house consists of a conventional structure that supports a prefabricated wooden pavilion out of the ground. Large eaves in a single blade aluminum cover protect the house of the intense rainfall common in the area and fulfill the simple design.
The 'two pavilions' concept, linked by stairs, allows a district separation between the living and common areas. The lower first pavilion, where living room and kitchen are located, opens to a spacious veranda through large glass doors and the upper second pavilion, composed by bedrooms, visually connects with the beautiful ocean and flora's landscape.
Photos: Dal Pian