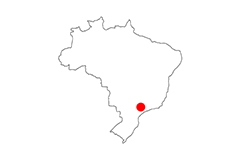 Brava House II
Ubatuba / Brazil
2004 – 2006
Area: 147 sqm.
Project awarded by the Brazilian Institute ofArchitects, São Paulo – 2004.
The building was called Brava House II by the authors because the project was a derivation of another architect's proposal – the Brava House – established in 2000.
This striving project and constructive exercise is justified by the authors in several ways. At first, the large shuttered frames in the main façade (bedroom and living room) permits the crossed ventilation when combined with the openings located between the roof and the slab (also sealed with wooden frames and glass).
Thus, the wood structure works along with the concrete structure and it has a 5 x 3 meters modulation; divided in six modules in the shorter direction and one in the longer one (it has only one wooden pillar). The server area has 1.80 meters between the structural axes and three meters in the other direction.
Photos: Nélson Kon