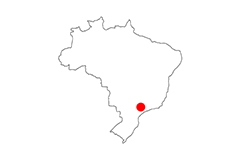 Distribution Center Magazine Luiza
Louveira / Brazil
2007
Area: 59.700,00 sqm.
The Distribution Center of the retail chain Magazine Luiza is located margins of Bandeirantes Highway, at the junction of the municipalities of Louveira, Jundiaí and Itupeva.
The Complex is made up of a large Storage Warehouse, a reception and sorting Ordinance and a Laminar Building surrounded by balconies and walkways that houses the offices, Auditoriums, Training Rooms, Changing Rooms, Ambulatory and Restaurant spaces.
Due to the reduced execution time – five months – the project, with the exception of the Ordinance, was designed and developed in the "tilt up" construction system, where the perimeter walls of the buildings are molded in reinforced concrete on the internal floor slabs and subsequently hoisted by cranes to final positions. The locking of these walls is done by the metallic structures that support the roofs.