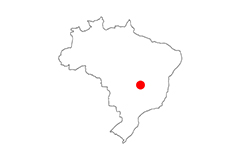 Center for Early Childhood Education Parque do Riacho
Brasília / Brazil
2016
Area: 2.590,00 sqm.
The Riacho Park is composed mostly of residential buildings. When completed, there will be 369 buildings of similar typologies that will house 5,904 housing units.
The urban landscape resulting from this composition will be uniform and repetitive
In this context, the New Center for Early Childhood Education is distinguished not only by the diversity of its program, but also by the nature of its functions as an institutional building for public and community use.
We propose a modulated building of two floors, composed of two symmetrical longitudinal wings, unified by connecting spaces of encounter, experience and interactivity.
The wings that make up the Receiving Space shelter, in the Ground Floor, the environments of Service, Support and the Refectory; in the upper floor, all administrative area.
Completing the volumetric composition of the building, a loose metallic cover over the two wings and the central volume, combined with a perforated sunscreen system, provides great environmental quality to the internal spaces.
Open Competition.