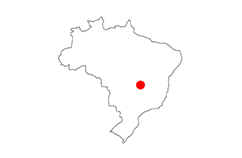 Collective Housing Units Samambaia
Samambaia / Brazil
2016
Area: 5.075,00 sqm.
Samambaia is a territory under construction. It mixes horizontal individual houses with buildings of average verticality, composed of a heterogeneous landscape, fragmented and discontinued by empty places and undeveloped land, which are recurrent characteristics of urban environments in process of growth and transformation. Particularly in the peripheral belt of Brasília, this lack of construction means that sometimes free and public spaces that permeate private lots are not clearly defined as being of urban and collective use.
As a way of contributing to the cohesive construction of this territory in transformation, we consider the following premises:
Relation with the surroundings – highlight the pilotis through a free, unobstructed and level ground floor with the routes of the city. By providing a direct, consistent and friendly relationship between the building and the public spaces, a decisive step is taken to build an inclusive and democratic urban land.
Relation with the landscape – vertical and detached, the building must be inserted in the landscape without denying any of its faces. From the different visual perspectives that the environment provides, its design and volume should remain intact, contributing to the balance and harmony of the city in which it is built.
Open Competition – Honorable Mention.