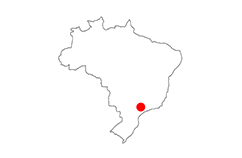 Expansion of the School of Medicine, University of São Paulo São Paulo – Brazil
São Paulo / Brazil
1998
Area: 6.120,00 sqm.
Current building
The building has interventions that restore the balance of its composition and optimize its occupation. We propose that the addition of two floors in the direct area, which occurred in the 70's, be removed, due to the precariousness of its execution and the clear disharmony that causes as a whole.
As currently configured, the internal garden of the building have their use greatly reduced, serving only as a passage and connection. We propose that both be covered by a thin metal structure with glass panels, supported by pillars independent of the existing structure of the building. Working as Square of coexistence, they become an extension of the study, work and leisure places. They may be one of them, to the academic center and another, as a space for study and reading of the library. The voids created in the central area, where the building merges with the existing one, will unify and ensure the fluidity of activities between the two buildings. In the proposed building, the glass curtain does not compromise the comfort conditions of users.
Developing in void, detached from the main structure of the building and providing ventilation openings at both the ground level and its source, allows the thermal load not to accumulate inside the building. In areas of multiple occupancy, horizontal brises definitely contribute to temperature control and light incidence.
New building
Respecting the dimensions of the posterior area of the current building, the proposed blade consists of semi-buried floor, garage underground, ground floor and four more standard floors and a technical floor.
Ordered by 1.20 x 1.20m modular grid, it offers flexibility of use and possibilities to contain all kinds of activities necessary for the Faculty of Medicine.
The access is made by the semi-buried pavement, where the visitor finds, right on their entrance. By the proposed excavation of the subsoil of the posterior terminal part of his central area and the removal of the succeeding floors in this projection, another vertical void is created, now joining the new building with the heritage listed building. The emptiness, which connects the plans, integrates and unifies every set.
Externally the buildings seem to perform independent and autonomous functions. The large glass curtain, which is free, casts across its back façade, allows the view of the existing building to always be present from its circulation.
Between the two built volumes,  rests a  reflecting Pool that more than prevents the movement of people between them, invokes silence and reassures the place.
The circulations of the floors are always reflected by glass curtain walls that filter and diffuse light through the voids. The multiple occupation areas have the quality of their spaces guaranteed by the control of their openings.
Open Competition – 2nd Prize.