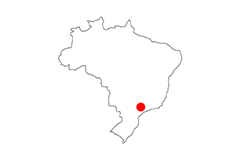 Faber Castell Cosmetics
São Carlos / Brazil
2012 – 2013
Area: 3.800,00 sqm.
Since 1978, Faber-Castell manufactures and exports make-up products to the world's most important cosmetics companies. The factory exports to 14 countries and has two production units: one in São Carlos and another one in Germany.
The new building in São Carlos will host the company's administrative sector and a portion of some other sectors: research, poduction and storage.
In order to optimize the construction, we decided to use a pre-molded concrete structure, pre-fabricated walls and thermo-acoustic tiles over a metallic lattice. Only in the administrative sector will be used a concrete structure molded on site.