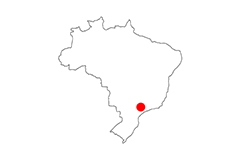 Hangar Cumbica – Hangar, Workshops and Offices
Guarulhos / Brazil
2002
Area: 12.750,00 sqm.
The Hangar, designed for private aviation, is located next to Cumbica International Airport, in the city of Guarulhos.
Allowing the hangar of large tonnage intercontinental airplanes, it has maintenance workshops, customs infrastructure, administrative and support offices for pilots and complete facilities for lodging crew and passengers.
The metallic structure of the roof, inverted to expose itself to visions and aerial perspectives, sticks to pillars on the outskirts of the Hangar, which provides a great light span to the building.