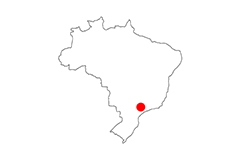 Hangares TAM Táxi Aéreo
Jundiaí / Brazil
2003 – 2004
Area: 27.530,00 sqm.
The new hangars TAM-Taxi Aéreo Marilia, representative of the CESNA brand for Latin America, is located at Jundiaí Airport, at the confluence of the Bandeirantes and Marechal Rondon highways.
The Complex, consisting of two 90x90m hangars (one of them to be built in a second phase), houses maintenance workshops, laboratories, administrative offices, restaurant and living spaces.
The required speed of execution led us to choose the "tilt-up" system, where the perimeter walls of the building, molded in reinforced concrete on the slab of the internal floor, are later lifted by cranes to the final position. The locking of these walls is done by the metallic structure that supports the cover.
The outer coating on galvanized steel tiles, permeated by the transparency of the anti-noise glass apertures, emphasizes the horizontality of the whole and reinforces the identity of the building with its activities.

Photos: Dal Pian
Marcelo Scandaroli