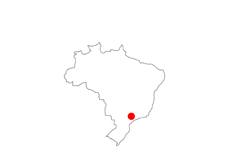 Iguatemi Residential Building
Campinas / SP
2020 – 2022
Area: 21,204.25 sqm
The residential building is the first project, part of the Masterplan of a planned neighborhood to be developed in a large area integrated to Shopping Iguatemi Campinas.
As an inducer of the development of a new urban centrality, the project consists of a single apartment tower, with diverse typologies and independent accesses, which appropriates the exuberant visual perspectives that favor the surroundings.
As a building with a strong urban presence, its longitudinal façades are covered by a system of perforated aluminum movable brises that offer sun protection and privacy to the apartments.  The flexibility of the openings and closures of these protections also provides volumetric variations that highlight the building as a living and dynamic organism in the city landscape.