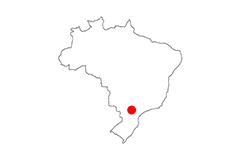 Londrina Theaters
Londrina / Brazil
2007
Area: 15.240,00 sqm.
A large urban square precedes the accesses of the complex. Congregating the  flows city's, this square establishes two light planes plans that unify and integrate its spaces into the interiors, consisting of two Italian shaped theaters for 1200 and 500 spectators and an experimental theater of varying conformation and capacity.
Next to the square, an arena theater with a large multimedia panel completes the variety of its showroom spaces.
Open Competition.