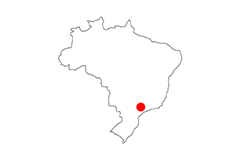 Modulo Rebouças – Nubank Headquarters
São Paulo / Brazil
2011 – 2016
Area: 14.240,00 sqm.
On the corner of Avenida Rebouças and Rua Capote Valente, in the Pinheiros district, the project is made up of 46 independent offices and a public theater.
Situated in a squared conformation plot, the building is conceived as a single cube volume internally perforated by a continuous void which brings light and ventilation into the interior garden.
The common areas of the program, such as the reception, the theater foyer and collective circulations, are located surrounding this central void. This multiplicity of spaces permeated by gardens provides its users with varied perspectives and playful visions of the internal building events.
Externaly, the building is coated by a set of frames alternating glazing modules with opaque seals made of aluminum composite panels, in shades of gray and yellow.
The transparent ground floor, permeable and receptive to urban flows, harmonically inserts the building into the urban fabric of the city.
Photos: Nelson Kon
Awards:
1st Prize –  9th edition of the AsBEA Award – Category  Offices