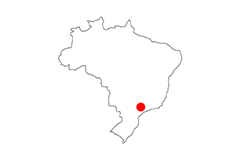 NASP – Natura Headquarters São Paulo
São Paulo / Brazil
2012 – 2015
Area:  29.700,00 sqm.
Situated on the margins of Anhanguera Highway, one kilometer from Marginal Tietê, Natura's new building  was constructed next to its distribution center.
Composed by six floors, the design is set around an integrating void, which permits the visual connection between floors. The internal gardens and the circulation areas will also face the void. The layout prioritizes flexibility and creates a large open space to increase the use of natural light.
Following eco-efficiency's principles, the east and west facades will be protected by a laminated glass louver system fixed in the frames. Metal louvers will be implanted on the north and south faces in order to decrease the indoor insolation. Furthermore, the green roof aims to intensify the building's thermal isolation.
Prizes:
1st prize– 10th Edition of  AsBEA Prize – Built Service Buildings Category
1st prize– Saint Gobain de Architecture Prize 2017 – Built Commercial Buildings Category
Nomination for Mies Crown Hall Americas Prize (MCHAP) 2018 –  Illinois Institute of Tecnology
Finalist for Archdaily Building of the year 2017.
Invited Competition – 1st prize.