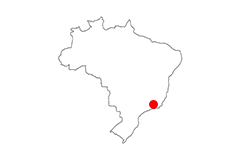 National Library Annex
Rio de Janeiro / Brazil
2014
Area: 13.886,00 sqm.
The Docklands area is a fragment of a city under reconstruction.
In this context, "Porto Maravilha" presents itself as a structuring territory for a new urban landscape composed by new buildings, recycled buildings for different kinds of use and multiple spaces designed to embrace people's interaction and reunion.
Building
In the interest of preserving the existing core and accommodating appropriately all demands, the new annex building occupies the whole area of the irregular site. Thus the building, designed according to the lot occupation, projects itself over a public square in order to receive and absorb the urban flow.
Composed by a ground level, a basement, a mezzanine and three more levels, the building's volume is unified by a metallic skin created for environmental protection and external coating. The forth level provides varied perspectives of the surrounding landscape through a system of covered porches that integrates the East, West and North Wings.
According to the library program, the building is organized by:
East Wing – facing the Public Square, the intense circulation areas are situated here: Public Library, Events Area and Bar/Restaurant.
West Wing – counts with an independent access control to the administrative and service sectors, the support area and the Public Library infrastructure.
North Wing – transition area between the public and private sectors, concentrates the vertical circulations and the restrooms by area.
Open Competition – 3rd Prize.