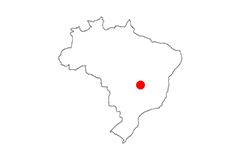 New Headquarters of CAU – BR and IAB – DF
Brasilia / Brazil
2016
Area: 4,960.35 sqm.
In order to express the strength and representativeness of the institutions, we thought the project for the joint headquarters of the IAB / DF and CAU / BR from the following vectors:
– Relationship with the context -what makes an institutional building to establish itself as a strong, readable and representative urban symbol is its direct and harmonious relationship with the city and not the simple expression of a self-referenced monumentality – its architecture must respect the scale, the landscape and the rhythm of the place, without dispensing the sufficient identity that makes it recognized and assimilated in the collective memory.
– Functional performance – The primary prerogative is the rational and flexible organization of the building's internal spaces and paths, so that it can easily be adapted to future program rearrangements – a perennial architecture that provides spaces with a wide programmatic diversity.
– Technological performance – technological innovation added to traditional construction systems should contribute to reduce energy consumption, increase internal comfort and improve environmental quality – technology when used only as a plastic expression is not architecture.
Open Competition – Honorable Mention.