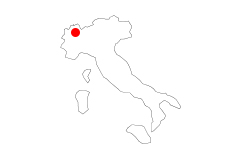 Cultural and Housing Complex Varese
Varese / Italy
2015
Area: 28.000,00 sqm.
Three places, a staircase, a single territory
We propose a new Theater on the projection of the Apollonio Theater (to be demolished), locating the other new buildings and urban equipment in the void created by the demolition of existing buildings in the Via Ravasi Complex.
Spatially unifying this new territory, Three Squares and One Staircase are proposed as sequential  free spaces, clear and directly related to the fabric of the city.
Reception Hall – Fluid space that favors the flow of urban routes and hilights the perspective  of the Theater.
Events Square – Free space that favors the flow of urban routes. Aimed at activities, spectacles and external and playful events of agglomeration enhances the plurality of Theater activities.
Suspended Square – Free and protected space intermedia the routes between the city and the Colina di Bosto. Configured as a square permeated by the placidness of green and water, it favors the visual perspectives towards the Theater and the housing and office building between Via Ravasi and Via dei Giardini.
Staircase – As a guarantee of the continuity of urban flows, a generous Staircase connects the level of the Suspended Square to the levels of Via Bizzozero, Reception Hall, Events Square and the New Theater.
Theater of Varese
With its access to the Praça de Acolhimento, the New Theater of Varese presents itself as a monolithic body surrounded by permeable and transparent closures that make visible the movement of people and express the dynamics of their events.
The Theater with its spatial conformation, dimensions and support infrastructures suitable for the various types of spectacles, also allows its scenic stage to open to the Events Square, enhancing its presence and use to the largest dimension of the city.
Polifunctional Complex
The Polyfunctional Complex contains a mix of essentially urban functions. Thought as a piece of city within the city itself, its project seeks to express an architecture that respects the presence and compositional strength of New Theater and harmonizes with the scale of the environment.
International Competition
with Arpino Masella Architettura.