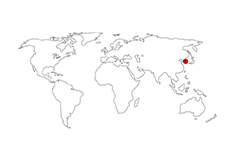 Prehistory Museum Jeongok
Gyeonggi_do / South Korea
2006
Área: 5.140,00 sqm.
Inside an archaeological site, the museum's layout resembles an ancient basalt grotto covered by the sedimentation of time.  Rescuing the primitive nature of the place, this artificial intervention exposes the basalt cleft and extracts the buried memory of its natural and human events.
The Gyeonggi_do_Prehistory Museum building, transverse designed over the vertical section, treats the territory not only as a natural support, but as a consequent space, establishing a respectful and intimate dialogue between the natural and built environments.
International Competition.