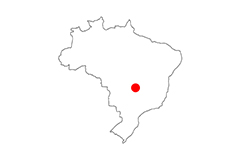 Regional Labor Court of Goiás
Goiânia / Brazil
2007
Área: 49.990,00 sqm.
Proposed to house the premises of the Regional Labor Court of the State of Goiás, the project adapts the use of an existing building and proposes two new independent buildings for the 1st and 2nd Instances respectively.
The built set conforms and defines a large public square within the block that, evoking the collective scale, filters and distributes the city's flows. Glazed buildings exalt transparency as a symbolic value of justice. Its access and security controls are guaranteed by the subtle reflecting pool that unifies sectoral activities and preserves the visual perspectives.
Open Competition 2nd Prize.