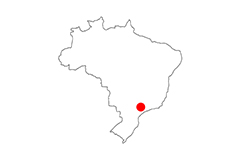 SESC Franca
Franca / Brazil
2013
Area: 15.950,00 sqm.
Open Competition – 3rd Place.
SESC is one of the most important brazilian instituitions that supports social, cultural educational and healthy projects. We believe that the new unit in Franca should clearly show the importance of this institution through a strong and neat architecture.
The building location privileges the connection with the city surroundings. A wide Esplanade enables the access to the building and leads the flow to the Welcoming Plaza, an indoor space created to stimulate the people meeting and the living together. To reinforce the building's urban dimension, the Esplanada prolongs itself and connects with the Integration Bridge over the Cubatão River.
The design is set around the Welcoming Plaza, a covered, iluminated and wooded space that permits the visual connection between floors and creates a large open space to increase the use of natural light, exposing the internal dynamic of the building.
Stairs, elevators and walkways distribute the flow and help to compose the large open area, creating a friendly and extroverted building.