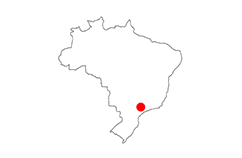 Tatui Conservatory
Tatui / Brazil
2010
Área: 8.880,00 sqm.
One of the largest and most traditional music institutions in the country, the New Headquarters of the Conservatory of Tatuí, in the interior of the state of São Paulo, is composed of a multi-use theater and several spaces for musical practices and body activities.
The conception of the project starts from a solid volume, broken and interspersed by transparent and glazed openings, which transforms into two distinct bodies. Within these bodies, a great central void articulates, distributes and exposes users to the plurality of their events. Through the varied paths and perspectives of the Conservatory, this void, illuminated by continuous vertical frames and zenithal openings that filter and diffuse natural light, also incorporates the surrounding landscape to its internal environments.
Invited Competition.