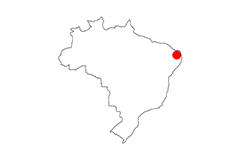 Natal Theaters
Natal / Brazil
2005
Area: 13.100,00 sqm.
The Natal Theaters Complex is composed of two theaters of Italian conformation with capacities for 1500 and 600 spectators and an experimental theater with variable conformation and capacity.
Contemplating also spaces and environmentsdestined to work, study, entertainment and leisure activities, the building stands out as a cultural and social reference of the city.
Open Competition – 3th Prize.