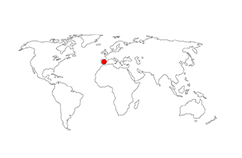 The Civil Registry in Madrid
Madrid / Spain
2008
Área: 13.850,00 sqm.
The circular plan of the building for the Civil Registry of Madrid respects the rigid premises of occupation established by the Master Plan of the new Justice Campus.
The project is designed around an internal courtyard with stepped gardens that articulates and distributes the activities in the building. Its green space, transparent and permeable to the visions of the Campus makes visible its events and reinforces the proposal of being an extrovert building, which integrates the surrounding landscape with its environments of permanence and work.
Open Competition.