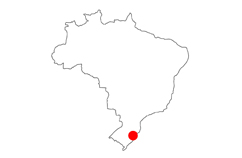 UERGS Unity
SÃO FRANCISCO DE PAULA / RS
2022
Area: 4.279,45 sqm
As an educational-public use building, we believe that the new UERGS unity, located in São Francisco de Paula, must contain democratic, dynamic and inviting spaces which promote coexistence and partnership between people.
On urban scale, the building looks to configure spaces that are directly in contact with the urban fabric. As a bundling place that opens himself to the territory and community, it makes possible an overlapping of functions of the civic, leisure and culture center.
The diversity and density of elements in project, led us to a vertical build with a central void that connect the floors. And this central element equipped with a glass façade, makes possible permeable views on interior and exterior sides of the building.
Open Competition.