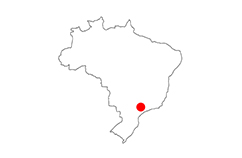 UNIFESP Student Housing São José
São José dos Campos / Brazil
2015
Area: 7.920,00 sqm.
The longiline ground, sloping and bordered by areas of environmental protection is close to the existing sports area. These conditions  led us to the design of a building composed of two parallel slabs that, conforming an internal square, fit the topography of the place.
The main entrance, from the southeast / southwest route, establishes a public axis of movement that crosses the internal square (plaza of coexistence), connects to the east / west route and defines jogging and leisure routes in the green area remaining north of the terrain. The criterion of this implantation also seeks to demarcate a second transversal axis of circulation that connects the housing building to the existing sports complex.
Plaza of coexistence – Urban stage 
Receptor of the external flows, the splaza of coexistence aggregates, articulates and distributes the routes of the building. Enlightened and partially covered space, for it turns the collective environments of general use of the dwellings. A staircase, used as a grandstand, connects the upper and lower ground floor of the living space, thus also transformed into a living stage intended for collective agglomeration activities.
With its configuration and conformation, the square of coexistence seeks to convey to the interior of the building the characteristics that are typical of the city:
organicity, spatial continuities, volumetric varieties and the richness of the visual perspectives that their full and empty provide.
Open Competition – 3rd Prize.