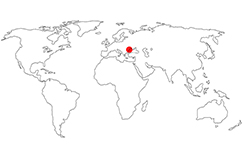 Varna's New Library
Varna / Bulgaria
2015
Area: 26.726,00 sqm.
We interpret the New Library as a big Box of Events, involved by a transparent skin and protected by screen-printed glass louvers, overlapped by a second Monolithic Box that seems to "float" over its cover.
This volumetric composition precisely defines the public spaces that have common use and are located in the Box of Events, and the restricted access spaces that have controlled use and are located in the Monolithic Box.
On the ground floor, the areas of great urban interaction are concentrated: the Main Lobby, Cafeteria, Event spaces and the Meet, Work and Study rooms.
An ample staircase leads the visitors to the First Floor where the Public Library circuit begins. The spaces are distributed through the floors and organized around an ample void where the vertical circulations are concentrated, exposing the visitors to the dynamic of the activities happening in the Box of Events.
Designed to be a transition between the Box of Events and the Monolithic Box, the Green Terrace floor offers pleasant views of the city of Varna.
International Competition.