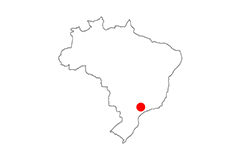 Water Square
Campinas / Brazil
2003 – 2004
Area: 5.540,00 sqm.
This plaza is the result of a contest held by a drinking water company in the Brazilian city of Campinas. The project consists in the rehabilitation of a water tank located near a central area.
The plaza is proposed as a walkable space in any direction and its design is marked by a set of parallel axes that contain the few elements presented: water, vegetation and seating. These three functional lines interrupt the ground's continuous surface, paved with slabs of gray stone.
The lines of water are expressed in two different ways. In one, a mirror of still waters has been built to serve as a line marking the edge of the constructed area and offers a space for peace and contemplation. In the other, a series of fountains sprout directly from the ground in the center of the plaza, creating a transparent barrier of motion. The stone benches are arranged one behind the other under the vegetation's partial shade, which acts as a filter between the plaza and the city.
Open Competition – 1st Prize.