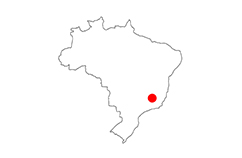 Belo Horizonte Administrative Headquarters
Belo Horizonte / Brazil
2014
Area: 108.901,00 sqm.
Implanted in Afonso Pena Avenue axis, we propose a transparent laminar building, iluminated by voids and permeated by gardens.
A wide Welcoming  Square, surrounded by reflecting pools, allows the clear transition between the city environment and the glazing internal space, accentuating the transparency and permeability of the building .
Three Hanging Boxes contain the Large Auditorium, the Small Auditoriums, the Exhibitions and the Library, that also counts with reading verandas.
The Lateral Verandas work together with the Horizontal Verandas and the great Central Void to break the facade continuity and creat a dynamic building.
Open Competition.