Dal Pian Arquitetos workshop in Porto Alegre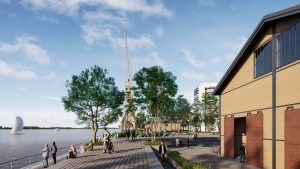 [06/23/2021] The project by Dal Pian Arquitetos for the Revitalization of Mauá Wharf was highlighted in the news from Jornal do Comércio in Rio Grande do Sul. The project strategy adopted by the architects consists of removing a flood containment wall, which is a segregating element between the wharf and the city. Nowadays it protects only part of the urban center, leaving the historical heritage of the old port area unattended. The project creates an elevated walkway, up to one meter high, and additional mobile flood protections. Due to that, the entire area will be protected and the visual connection between the Guaíba River and the city will be reestablished and enhanced by the new uses given to the port warehouses.
Click here to read the news and check out the project for the Revitalization of  Mauá Wharf.