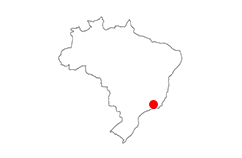 Paineiras
Hotel Complex
Rio de Janeiro / Brazil
2009
Area: 13.515,00 sqm.
Inside the Tijuca National Park, the project is made up of three buildings that have independent but complementary activities: the New Transfer Station, which leads the flow of tourists (by trains and vans) to the Cristo Redentor Monument; the recovery of the former Hotel Paineiras and its annexed Pavilion by its reform and expansion ; and the construction of a new building for the parking of visitors cars and charter vans.
As a way of organizing the reception and distribution of the expressive number of visitors to Parque da Tijuca, we propose a sectorial occupation, designed as a filter of flows and selective sorting, which reduces areas of confrontation and, consequently, crossing between people and their various means of carriage.
Open Competition.