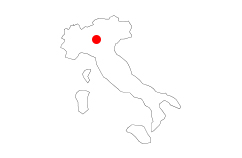 Innovative School Racchetti da Vinci
Cremona / Italy
2016
Area: 10.500,00 sqm.
Education is a social activity
The Nuovo Liceo Racchetti of the Sraffa di Crema Institute offer teaching and coexistence for students between the ages of adolescence and early adulthood. This is a period of life of great transformation, in which the individual is open to socialization, learning and absorbing knowledge. In this period, with more emphasis than in other periods of life, the school presents itself as a metaphorical stage of collective life, as a place of possibilities for those who know and experience the world.
Building a place
The project includes not only a new building, but also the construction of a new public park with an urban dimension. The Lyceum is inserted in the middle of this new territory. In relation to this new context and the importance of its collective and public use, we believe that the building must express an architecture that presents itself as a strong urban signal, legible and with sufficient identity to be recognized and assimilated in the collective memory. As its presence also qualifies the urban fabric, this architecture must be in harmony with the scale, the size and the rhythm of the place, establishing a continuous and direct spatial relation with the landscape and the flow of the city.
Construction systems and facades
Each building is an intervention in a natural environment. That is why the project proposes, through a respectful system and the use of materials, techniques and construction means that are not very aggressive, to reduce the impact of construction on the park's environment. A constructive system composed of prefabricated concrete and steel structures was adopted.
International Competition
with Arpino Masella Architettura.