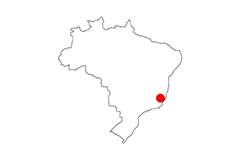 Petrobrás Headquarters – Vitória
Vitória / Brazil
2005
Area: 29.600,00 sqm.
The  terrain of the Petrobras Business Unit Headquarters in Vitória / ES presents itself as a rocky massif of irregular topography and surrounded by varied vegetation. Standing out in the landscape, it offers varied and interesting provoking visual perspectives of the city.
In this context, we propose a transparent, permeable building with high internal environmental quality, which seeks to harmonize with these natural conditions.
Open Competition.