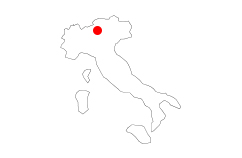 Stone City Headquarter
Bergamo / Italy
2017
Area: 1.080,00 sqm.
We propose a building of simple design and pure forms, but of strong presence in the landscape
Implanted parallel to the motorway it houses the requested program in only two grounds. The elevation of the building facing the freeway is the configuration of the design of three interspersed rectangles, the component of one of the constructive elements that increase transparency, opacity and luminosity.
The trasnparency of the volume and the double height of the Hall Multiuse the dynamics of the activities contained within the building. Its permeability and lightness stand out in the contraposition that establishes with the tectonic massif of the Suspended Wall.
The large horizontal dimension and opacity of the Suspended Wall in Uni-Box gabions transform the building into an advertising vehicle for the company's products. A Luminous Panel with Stone City encapsulated in the Suspended Wall highlights the name of the company that joins its products.
International Competition
with Arpino Masella Architettura.